What is VITA?
The Volunteer Income Tax Assistance program (VITA) is an IRS program implemented across the county by United Way of Denton County. VITA offers free tax preparation to people who generally earn up to (not over) $60,000. The upcoming Tax Season will be challenging, and we need your help so low and moderate-income families in our community get their federal tax refund without paying unnecessary and often predatory tax service fees.
Through VITA, dedicated volunteers just like you help local families in need by putting the single largest sum of money they will see in the year in their pocket. By e-filing their return for free, each family also saves $300 to $1,000 (or more!) that is charged by predatory retail preparers, money a family in need could certainly use to improve and transform their own lives!
Who qualifies to volunteer?
Very nearly anyone! Our volunteers come from all walks of life, from professionals looking to pay it forward, to accounting students trying to decide between Tax and Audit and social work students looking for direct client experience, to retirees using VITA to keep their minds sharp and their days busy!
What does it take to volunteer?
To volunteer to help families in need, you'll have to pass a background check, then commit to:
4 hours of Orientation and Intake training
8 hours of Tax Law training, plus optional tutoring to pass certification
3 hours each week for the 12 weeks of Tax Season
That's it! In the span of 48 hours, you personally can help scores of low to moderate-income families fulfill their federal tax obligation, get back the refund they are due, and infuse their lives with the cash to make their dreams come true!
What has the VITA Program done?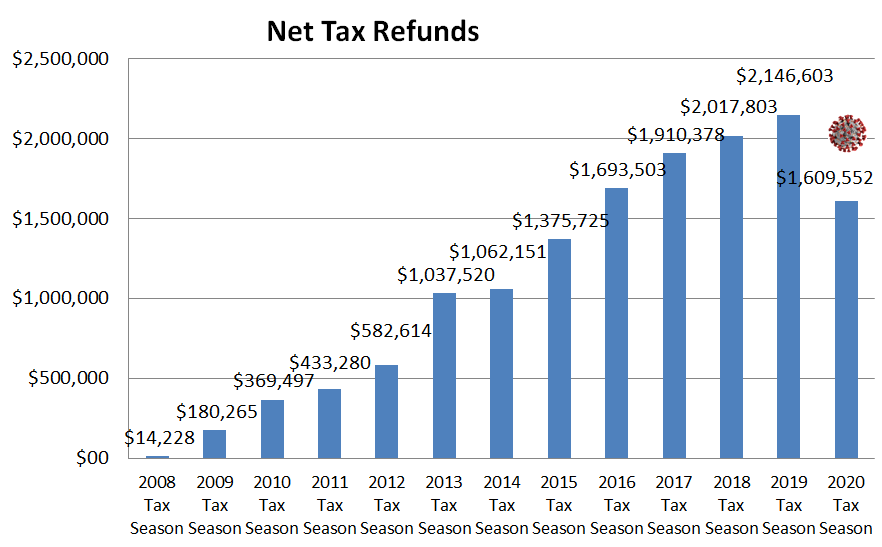 Since its advent in 2008:
United Way of Denton County volunteers have prepared over 10,000 tax returns for Denton County taxpayers!
United Way of Denton County volunteers have returned over $14.4 million in refunds to the pockets of low- to moderate-income Denton County taxpayers while saving them an estimated $2.7 million in filing fees.
We need your help to bring that money back to the pockets of households who need it most!
How can you help? Two roles for our volunteers:
Tax Preparer:
After 12 hours of training, Volunteer Tax Preparers complete an IRS certification test and work directly with households who earn up to $60,000 to file their tax returns. At the end of the day, your hard work will be more than paid off in both the economic impact you have on local families and the joy of taxpayers getting the refund they are due.
Translation Volunteer:
A taxpayer can't provide the information we need to prepare their return if a language barrier gets in the way. Multilingual translators can engage taxpayers during any and all steps of the process to help our tax preparers provide people with accurate returns, the maximum legal refund, and the high-quality service taxpayers have come to expect from VITA in Denton County. We particularly need help translating for Spanish-speaking taxpayers, but we also have occasional need for volunteers who can translate Chin, Chinese (Cantonese and/or Mandarin), Sanskrit, Urdu, and Vietnamese.
Helpful Links:
Websites:
IRS website
Link and Learn Certification System
IRS Online, Self-paced Curriculum
TaxSlayer Online Practice Lab
IRS Publications:
Pub. 17 - Your Federal Income Tax for Individuals
Pub. 502 - Medical and Dental Expenses
Pub. 970 - Tax Benefits for Education
Pub. 4011 - Foreign Student and Scholar Resource Guide
Pub. 4012 - Volunteer Resource Guide
Pub. 4491 - Volunteer Training Guide
Pub. 4491-X - VITA/TCE Training Supplement
Pub. 4961 - Volunteer Standards of Conduct Ethics Training
Pub. 5101 - Intake / Interview and Quality Review Training
Pub. 6744 - Volunteer Test / Re-Test
Form 8962 Instructions - Premium Tax Credit