The Denton County Homelessness Barriers Fund is currently OPEN to City of Denton residents, City of Lewisville residents, and ATMOS customers with ATMOS bills.  
Applications may only be submitted by agencies utilizing the Homeless Management Information System (HMIS) in Denton County. To access the application, email BarriersFund@UnitedWayDenton.org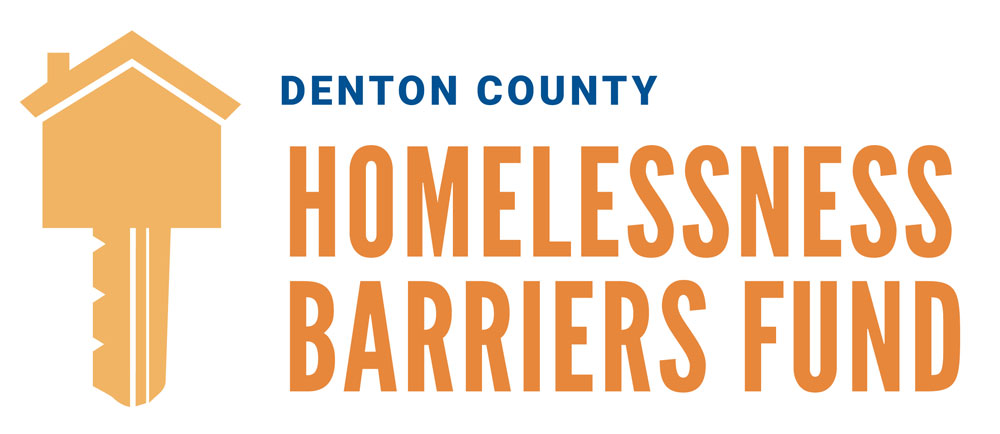 The Denton County Homelessness Barriers Fund is all about opening doors and reducing barriers to stable housing. The fund is intended as a 'fund of last resort', and is meant to be accessed when no other funding or resources are available in the community to ensure housing stability for people experiencing or at-risk of homelessness. 
The Client Assistance Barriers Fund is intended to provide supportive services to people who are experiencing or at-risk of homelessness. While the funds are intentionally flexible, eligible uses are restricted to goods and services that are directly related to housing (access and retention or critical supplies), critical documents (birth certificates, IDs, DPS surcharges, immigration documents, etc.), employment and training (GED fees, licensure fees), access to health care services (co-pays, school required immunizations) or transportation. These funds are to be accessed when no other funding is available and the resource is not available within the community. 
This application is only for Client Assistance. See below for eligible expenditures and agency criteria.
**Please be advised, if the below application is not completed correctly or does not include sufficient information, the Barriers Fund Steering Committee may ask for additional or clarifying information. As of August 2018, if case managers do not reply to follow-up questions from the Barriers Fund Steering Committee regarding their requests within two weeks, the request will be closed. It is within your best interest to provide as much information and supporting documentation as possible upon intial submission of your request.**
Who can apply:
Requests may only be made by a 501(c)3 nonprofit organization that utilizes the Denton County Homeless Management Information System (HMIS)

Payment is never made directly to a client or vendor

There can only be 1 expense linked to the request. For example, if the client is in need of 3 different bills to be supported, only 1 bill can be submitted for the client in the request.
Agency Expectations:
Requesting agencies must indicate the request, amount being requested (MAXIMUM ANNUAL REQUEST PER FAMILY IS $1000) and proof of last resort

Agencies applying for funds are expected to have utilized or attempted to utilize all applicable existing funds and resources, and be able to state that no other existing community resources can meet the specific need. Existence of client income or assets does not necessarily preclude use the fund. However, agency staff must explain why the client cannot pay for the need out of his/her funds, and record this in HMIS.

Agencies must email BarriersFund@UnitedWayDenton.org with proof of the expense of the request before the request will be reviewed. For example, if the request if for 1 month of rent case manager would include a picture of the lease or ledger showing the amount.

Submit request and recieve notice of approval or denial by the Denton County Homeless Coalition Barriers Fund Steering Committee within 72 business hours

Agency makes payment directly to the vendor once request has been approved; submits proof of payment and awaits reimbursement from UWDC (checks are administered on the 15th and the last day of the month)

Agency case management staff report all details in client records in the HMIS

Agency agrees that information is available upon request by the Denton County Barriers Fund Steering Committee
Eligible Expenditures:
Critical Documents - Documentation needed to overcome barriers to employment, housing, etc. Examples include driver's license, state identification card, birth certificates, and student records.

Employment & Training - Items needed for specific employment or job training. Examples include uniforms, boots, tools, personal protective equipment, and certification, GED exams/courses, or licensing fees.

Health Care - Items needed to improve a person's health. Examples include co-pays, prescriptions, medical equipment, eyeglasses, and wheelchairs.

Household - Items needed to sustain housing, household safety, and accessibility. Examples include clocks, basic household furniture, cleaning supplies, fire extinguishers, flashlights, kitchen utensils, cookware, linens, small appliances, window blinds, and grab bars.

Income/Housing Support - Credit counseling and some assistance with rent where no other sources are available.

Transportation - Car registration, bus passes, transportation fare, gas vouchers, tires, Greyhound tickets to return to locales with table family supporters, or minor car repairs.
Ineligible expenditures include, but are not limited to: tuition and books, probation fees, furniture (outside of basic household furniture), food, etc. If agency staff has any concern about the eligibility of an item, they should submit a request at barriersfund@unitedwaydenton.org, and advocate for the specific need and its connection to the client's housing stability.
PLEASE NOTE: Upload attachments are not required to submit a request. Attachments may be used to further illustrate last resort (ex: email documentation that other funds are not available).