The Denton County Homeless Coalition (DCHC) is a working group of the Denton County Homelessness Leaderhip team that seeks to promote a community-wide commitment to the goal of making homelessness rare, brief and non-recurring. 
DCHC is comprised of representatives from nonprofit agencies, Denton County cities, school districts and other community stakeholders. The coalition works with the
Texas Homeless Network (linked)
, the lead agency for Denton County's Continuum of Care (CoC), the Texas Balance of State (BoS). DCHC implements CoC strategies and Denton County and promotes collaborative strategies for state and federal homeless funding opportunities like the
Emergency Solutions Grant (linked)
. 
GET INVOLVED AND STAY INFORMED
MEETINGS
All DCHC meetings are open to the public. Meetings are the last Wednesday of the month from 9:00 a.m. to 10:00 a.m., and are currently being held via Zoom Video Conference. For meeting links and more information, visit our calendar: 
https://www.unitedwaydenton.org/events/calendar
. 
2022 Meeting Schedule:
January 26th
February 23rd
March 30th
April 27th
May 25th
June 29th
July 27th 
August 31st
September 28th
October 26th 
November 30th
December - NO MEETING
---
Current Inclement Weather Information 
City of Lewisville Warming Station/Shelter Options:
Salvation Army of Lewisville will open an emergency overnight shelter for the night of January 1st and 2nd of 2022 due to below freezing temperatures.
Shelter will open at 6 PM and provide shelter until 9 AM each day. 
Salvation Army of Lewisville - 206 Main Street Lewisville, TX 75057
City of Denton Warming Station/Shelter Options: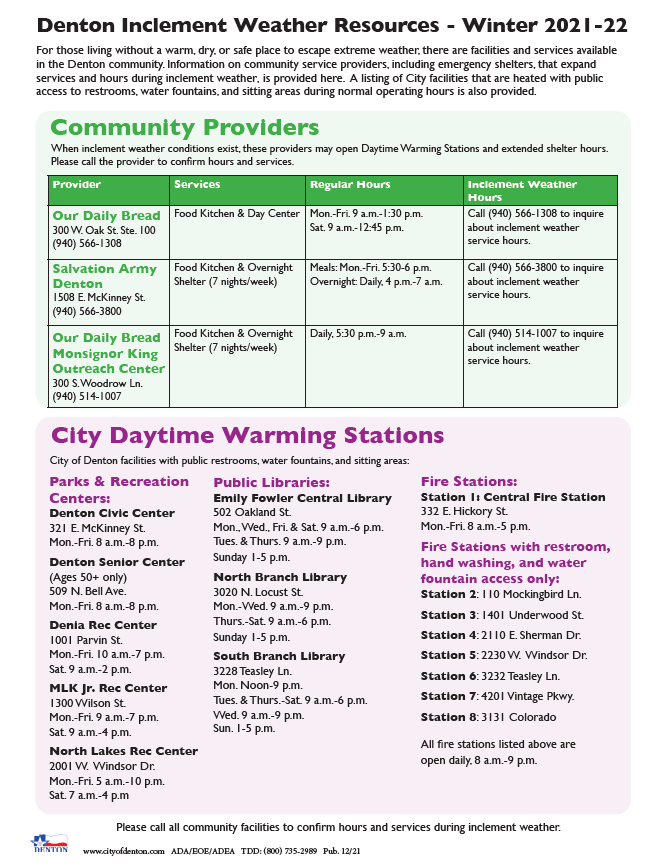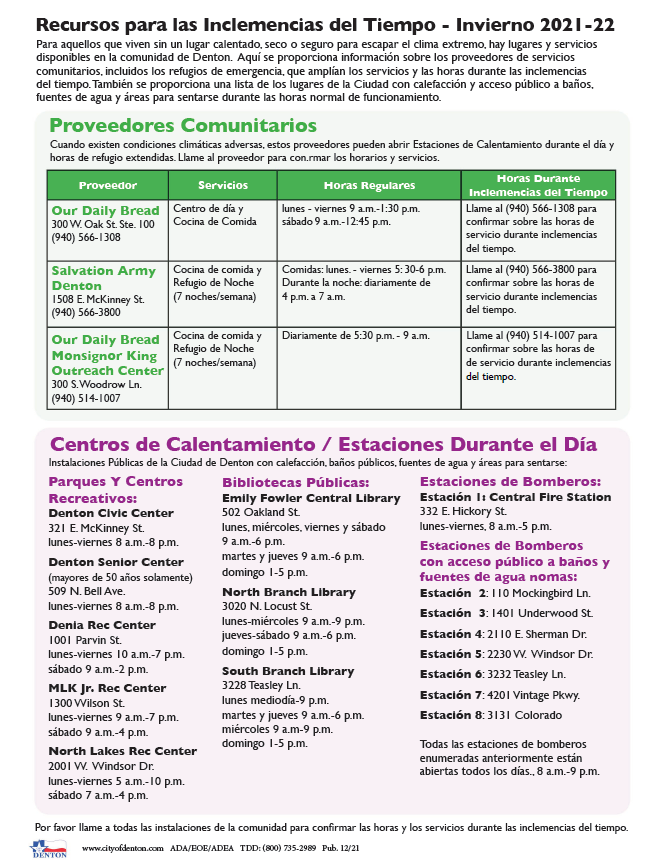 ---