The Denton County Homelessness Barriers Fund was created to help families overcome barriers to getting and staying housed. On any given day, there are at least 250 people experiencing literal homelessness in Denton County, and many more are one financial crisis away from losing their housing. A donation to the fund helps ensure our Denton County neighbors have a safe and stable place to call home.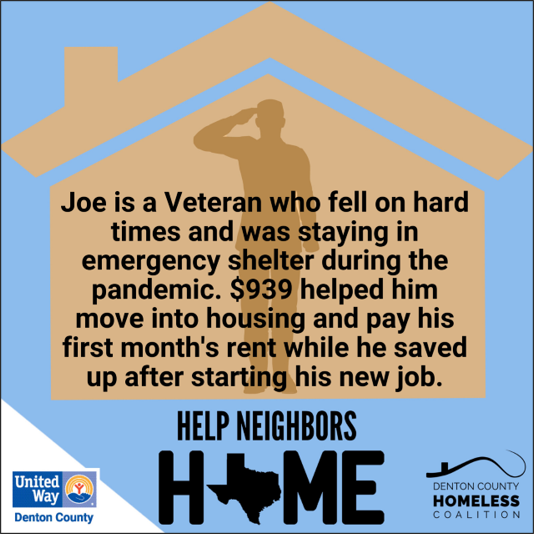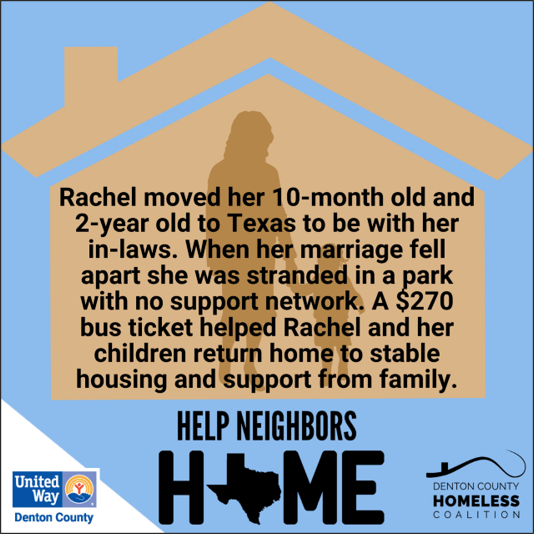 Apply For Homelessness Barriers Fund 
 This application can only be utilized by 

501(c)(3) nonprofit organizations that utilize the Denton County Homeless Management Information System (HMIS). Please reach out to one of the following agencies to apply for assistance from the Barriers Fund.
Agencies currently accepting clients for Barriers Fund Requests: 
300 West Oak St, Denton TX 76201
Mon-Fri 9 am to 1:30 pm and Sat 9 am to 12:45 pm
Call (940) 566-1308
***For survivors of relationship violence and sexual assault***
Outreach Office at 4845 I-35E Suite 200, Corinth TX 76210
Mon-Thur 8:30 am to 8 pm, Fri 8:30 am to 5 pm and Sat 10 am to 2 pm
Call 940-387-5131
If you are currently in a crisis and attempting to reach a DCFOF staff member, please call or text (940) 382-7273 to get connected to DCFOF's Crisis Line.

Your generous contributions to United Way of Denton County are tax-deductible to the extent permitted by law. In order to claim a charitable deduction on your income tax return, your electronic contribution must have been received by 5 p.m. on December 30th. Donations made by check and submitted by U.S. mail must have been postmarked by December 31.