Mental Health Crisis Hotline  1-800-762-0157

Denton County MHMR
provides a crisis hotline service accredited by the American Association of Suicidology (AAS). Hotline staff provides information, support, intake appointments, intervention, and referrals to callers 24 hours a day, 7 days a week.
If you or a member of your family are struggling with thoughts of suicide, depression, or mental illness, Denton County MHMR Center is there to help. Give them a call at 1-800-762-0157.
---
National Suicide Pevention Lifeline 800-273-TALK (8255)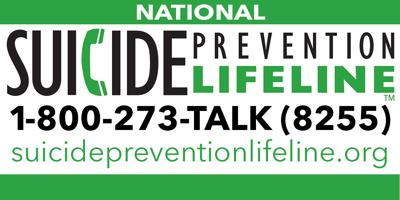 We can all help prevent suicide. The Lifeline provides 24/7, free and confidential support for people in distress, prevention and crisis resources for you or your loved ones, and best practices for professionals.
---
COVID-19 Mental Health Support Line 833-986-1919
The Texas Health and Human Services Commission and the Texas Department of State Health Services are working to safeguard the health and safety of all Texans. If you or someone you know is feeling overwhelmed by the COVID-19 pandemic, call the HHSC COVID-19 Mental Health Support Line to speak with a mental health professional for help dealing with stress, anxiety, or depression.